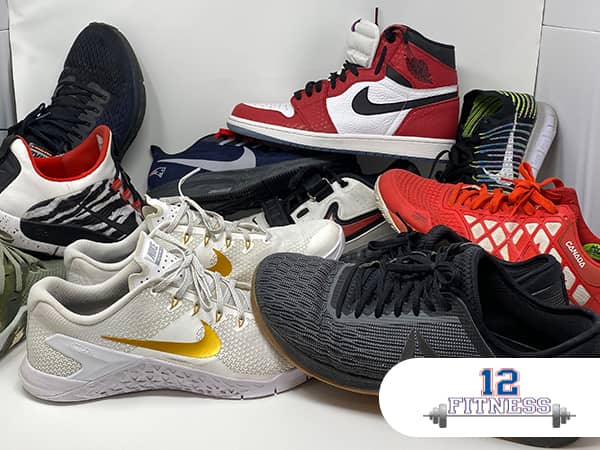 BEING A HUGE SNEAKERHEAD WITH ALMOST AS MANY SHOES AS THE YEAR HAS DAYS,
I figured it only right to give you guys a run-down of what I like & what makes a great training sneaker. For myself, I will train in any sneaker. If you watch my Instagram or YouTube you will usually catch me squatting, deadlifting and doing hypertrophy workouts in Retro Jordan's. Doing metabolic conditioning (Crossfit style workouts) in my Nike Metcon's or Reebok Nano's and Olympic lifting in my Nike Romaleos. I run in Nike Pegasus and am usually a Nike guy when it comes to cleats, basketball shoes or any sport, but we won't touch much on these 2. I know many of you have a wide variety of preferences and different training styles so let me break down which sneaker is best for each style of training and what I like about each and dislike about others.
CROSSFITTER / ATHLETE / CROSS TRAINER
For anybody in this category of athletes, the choice is clearly between 2 sneakers: The Reebok Nano & Nike Metcon.
The Reebok Nano is a great all-round sneaker that you can lift, run or wear casually any day. It is comfortable, lightweight has great support with a slightly raised heel for squatting or only lifting and great traction for agility work or rope climbs.
The Nike Metcon is a sleek high-performance sneaker that you wear to squat, deadlift or oly-lift with it's flat bottoms and weighted heel. It fits your foot very well and is very lightweight at just over 10oz. They have a firm upper and mesh lowers that are very breathable. The heel is well wrapped and stable for lifting heavy weights with great traction and a heel tab for handstand pushups.
Overall the Nano fits a bit looser and more comfortable but is bulkier and heavier at 12.8oz. Where the Metcon is sleeker and fits tighter or more form-fitting. Making them not as comfortable for long wears or longer running workouts with their flat bottoms, but better performance for squatting or Olympic lifting with a little weight in the heel. They are also overall a lighter shoe at 10.6oz. For me, I have multiple pairs of both and will change them based on the workout I'm doing, but if I had to pick one based on comfort alone I'm taking the Reebok Nano if I had to only wear it as running in the Metcon's hurt my feet.
HYPERTROPHY/ MUSCLE BUILDER / WEEKEND WARRIOR
When it comes to lifting weights the top priority of a sneaker is for it to be comfortable & look good. If you're not moving a ton of weight and keeping your impact to a minimum, comfort should be your top priority. For those who squat or deadlift you should want a shoe with a wide support, be firm and have a low center of gravity. All of this coupled with comfort and style bring me to my 1st recommendation:
Jordan Retro 1's, 3's or 4's. All of these have flat bottoms that are ideal for squats and deadlifts, good support systems (minus the uppers on the 1's), feel like you're wearing slippers at the gym and come in a wide variety of colorways and options that will bring comments from other members every time you wear them. The only downside to these is the old and thick leather that makes the shoe a classic is a bit hot if you get your heart rate up. My runners up for this category would be classic Chuck Taylors, although not as comfortable they provide a great base for power lifting and look great. Reebok Nano's will be a 3rd choice. Big on comfort and more geared towards performance. If you step your workouts outside the body building world these might be an option and all the benifits are covered above.
RUNNING / OUTDOOR / SPARTAN
For this category there are many brand names that have come on the scene over the past few years, but I usually stick with the staples in the game and solely rely on comfort. One thing to look for is not too much arch support as this will relax your arch and foot muscles, making them inactive over time. What happens to most runners and over workers is they will develop imbalances and resort to orthotics or inserts, making the problem worse over time and spending a ton of money along the way. (Always train your arches barefoot for 1 day of the week, but this is another blog topic on its own or read "Ready to Run" by Dr. Kelly Starrett for more on this.)
My picks for this category are: The Nike Pegasus & Nike Free Trainers only because Asics and Saucony's are overpriced and usually over compensate their arches targeting problem runners or "more comfort". You can find great shoes by them, but you have to be careful not to get too much arch support and look for flatter insoles.
The Nike Pegasus is my clear favorite for just running. They make the shoe lightweight and very durable for all weather and climates. Even making a shield technology for cold weather and elements for us up here in Canada. The heel is elevated for great heel strike to toe transfer and the outsole is very durable and lasts forever. (Although your mid soles shouldn't take more than 6 months of wear before they have broken down and you need to replace them. This will lead to ankle, knee and hip issues as they will have to start taking more impact.
The Nike Free X Metcon Trainer is a great all-around shoe that fits like a slipper and is very comfortable. Not for longer runs, but shorter distances with other cross-training, jumping or plyos. I wear this shoe for outdoor workouts and Crossfit workouts with lots of running like "Murph" with 2 miles, anything more I would switch out for actual runners.
WHAT NOT TO WEAR
The toe shoes are not an option and have been sued for false advertising and do not work or benefit you in anyway other than looking ridiculous.
Worn out Sneakers. As I stated in the running section the midsole has about 6 months of wear before your joints start to take the impact. Change your shoes up! Now if you only train 3X/weekin the shoe they will last you the year.
Outdoor/ dirty sneakers. Nobody wants to clean up your mess and the small stones that you bring in with you are a gym owners nightmare.
Olympic Weightlifting shoes for your entire workout. There is no benefit in weighted and raised heels for everything and you are actually putting a lot of stress on your knees wearing them overtime. You want to use your feet and learn balance and bracing techniques. Not be glued to the floor while doing DB lateral raises.
So no more squatting in running shoes and no more running in Metcon's. If you take anything from this blog, I would hope these 2 stick with you. Invest in good shoes and you will get out of them what you put in. They don't have to be the highest-priced runners or the newest pair of Nano's. I recommend to everybody get a couple pairs and try them out in different dynamics. See what you like and what fits your training style.
Overall I wear my Reebok Nano 8's the most out of any shoe in the gym, because they are the most comfortable and are great to squat, deadlift and cross-train in. They are light and feel great if I'm training my clients or catching a heavy clean. They may not be your favourite, but I would love to hear what you wear and why in the comments on my Facebook or Instagram posts on this topic. Find them @12Fitness.
I hope this helps. Now get out there and train!
STOP WISHING FOR IT AND START WORKING FOR IT!